Shaman Camp 2009
You're Invited
This summer Shaman Camp 2009 will be held in the hills near Mariposa, CA. We are privileged to be invited to camp, to journey and to celebrate life at Flaming Heart retreat center.
Shaman Camp 2009 will be a structured camp with:
Workshops throughout the day and evening to deepen your shamanic practice
Journeys to deepen your relationship with your Spirit Teachers and Power Animals
Renewing time in sacred space.
There will be plenty of time for relaxing and eating ~ of course.
Flaming Heart is owned by Melinda Abeles, a beautiful woman with a lot of shamanic experience and a love of people and the Earth. She is building the center as a place where we can be renewed and bask in the Peace of Mother Nature. I'm thrilled that our use of the land will also be contributing to building Flaming Heart. I share her Vision and intend to support it and hold meetings there as often as possible. I feel you'll love this land too!
The Views from Flaming Heart are spectacular! Here we are looking East toward Yosemite. The center is about a one hour drive from Yosemite.
Our Classroom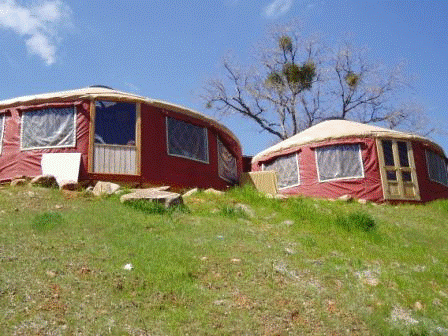 Our indoor classroom is a HUGE Yurt totally equipped with drums, art, cushions and altar space. There is plenty of space for journeying, drumming and dancing. The Yurt on the right is the kitchen.
Some people will be sleeping in the yurts.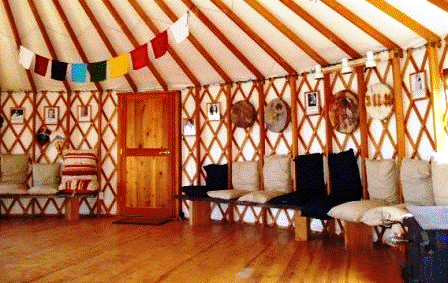 The view from within includes a window looking out on the above mountain view.
The kitchen is fully equipped with both a wood stove and gas stove, freezer, refrigerator, large workspace, real dishes (to wash), sink and tables for eating -- indoors and away from the bugs.
Flaming Heart Cabins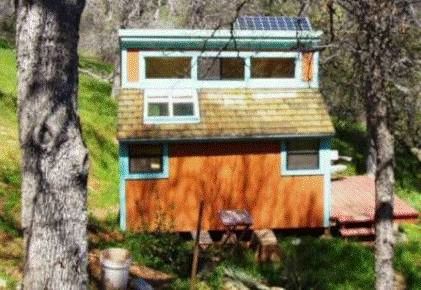 Sleeping arrangements will vary. Most of us will be in the two yurts. There are at this time 3 small cabins. Two are singles and one is a double. By arrangement with whoever is paying extra for a cabin, you might sleep on a cabin deck outside under the stars. Two such spaces are available.
Tent camping is not recommended yet as the green grass will be all stickers in the summer when we are there. Not so nice! In the future, Melinda will be building tent platforms.
There is some parking available if you have a camper van or SMALL RV. Please let me know way in advance if you plan to bring a camper of some sort. Not all vehicles will be able to get in and out of the space.
Sacred Space
A Shrine to Meher Baba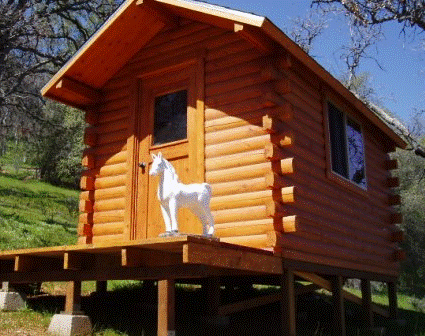 The Meher Baba Shrine is open for sitting meditation. The shrine is dedicated to the Great Avatar Meher Baba, and as with all sacred spaces, we will remove our shoes and behave respectfully when we enter the shrine.
About Shaman Camp 2009
Now for some details:
INSTRUCTOR: Judy Lynn Taylor, Shamanic Practitioner, CCHT, Crone, Human Being
DATES: August 7, 8, and 9, 2009

TIMES: Arrive Friday, Aug 7th between 1:00 pm and 4:00 pm.

LOCATION: Flaming Heart near Mariposa, CA. Directions will be given when you register.

FEES: $175 to $200 - depending on where you sleep - see me. $50 deposit reserves your space - non-refundable after July 1st.

FOOD: I know this is a subject near and dear to everyone!! We will all be bringing our own food and we will be sharing.
Breakfast and Lunches: Bring simple meals that you can put together easily.
Dinners: Both Friday and Saturday Dinners will be pot luck. Once again keep it simple. No BBQs this time. Stoves are indoors. Because it is August, cooling foods win! I will be picking a theme for each evening and everyone will choose a main dish, side dish, salad or dessert around that theme. I'll be talking with everyone about this as we get closer to the time.
LOGISTICS: It's going to be summer which means heat! We will be indoors and outdoors, AND, there is no Air Conditioning. Flaming Heart is totally off the grid and running on Solar! Yeah! The Yurts have swamp coolers which work well in California summers. There is a cool pool for us to get wet, shade of trees, etc. We'll be fine. However, if you suffer in heat, you have the option to rent a room in town just 10 minutes away for sleeping (at your own expense). I will expect you to stay with the group all day.
Bring whatever you need to sleep: pads and sleeping bags for the yurts or sheets and blankets for the cabins.
Clothes for summer, including decent shoes for walking on uneven ground. Include a swimsuit. Be prepared for outdoor living and remember ~ we share the environment with critters. You might want bug stuff, walking stick, whatever.
Toilet items including a couple of towels for dunking in cool pool.
Cool Pool ~ Without the Water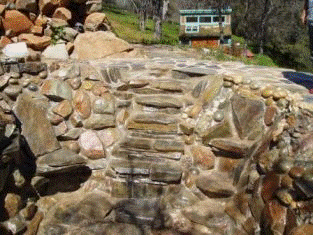 The Pool is REALLY cool and has a waterfall, too.
I hope that you will be interested in coming to Shaman Camp 2009 and joining with us in Sacred Space. A retreat away from the busy world is so renewing. And we are really away from it all here. Be prepared for wonderful stillness and take the time for YOU.
We'll be talking more about Shaman Camp 2009 as we get closer. Reserve your space now.
NOTE: You will be required to have your own medical insurance and to sign a waiver of responsibility should you skin your knee!
To register or ask questions you may call or Email
Also visit: Shamanic Healing
Shaman Camp 2008